Welcome To The GTa3: Alpha Version Mod 2.0 Official Topic!

Download links:
Mod Link: http://www.mediafire.com/download/9uf29w6fgczk84b/GTa3+Alpha+Version+Mod+2.0.rar
LibertySoul and KBDDF FM Audio Files link (KJAH & MSX): https://www.mediafire.com/?17m7w9o42h36vzr
Important Message:
Dear members,
It is MANDATORY to install all 3 files in order to have the mod fully functional. If you have the audio files from Friday's re-release, you can use those and don't have to re-download the audio. Also we've include instructions on how to install the mod properly. Also, any users who are running Windows Vistas, Windows 7, or Windows 8, we suggest you to run the mod in compatiblity mode "Windows XP Service Pack 3" on the mod's exe. GTA 3 is not required to play.
Features:
New Alpha Cars
New Alpha Timecyc
New Alpha Peds
New Alpha Graphics
New Alpha Carcols
New Alpha Head Radio Station
New Alpha The Zone Radio Station
New Alpha LibertySoul FM Radio Station
New Alpha Zone FM Radio Station - a new radio talk show
New Alpha KBDDF Radio Station - an mid 90s - 2000 pop station
New Alpha Radar Icons
New Alpha Chinatown
The trees on the intersect by the Casino are now removed.
PS2 Animation
Alpha Fonts
"Give Me Liberty" is now renamed to "Tutorial Mission"
"Give Me Liberty" now starts off at the front of the Callahan Bridge.
On "Give Me Liberty", 8-ball can now get out of the sentinel and roam the streets of Portland with the player.
Majority of missions have their name changed.
Alpha Airport. The airport is now north of Stauton Island
Multiple environmental changes
Alpha Misty
New Claude texture
New Vehicle: Furore GT
Zaibatsu Buisness Class
Indian Pedestrains
Alpha Particles
On "Give Me Liberty" Claude is now wearing his original clothing instead of the jail suit.
ENB has been tweaked up with more color & brightness tweak down a bit, and depth of field added
to give the mod more of the smooth, and bit blurry alpha feel.
Alpha Bug Vehicle
Alpha Yardies
Alpha Leones
Alpha Zaibatsu
Alpha Brigham

Also, be sure to check back here every week, as we will release weekly updates starting next week.
THE NEW LIBERTYSOUL FM - Tracklist
1.Tiger Rag - The Mills Brothers (1970 version)
2.Frank Sinatra - Blue Moon
3.Dean Martin - Ain't That a Kick in the Head
4.Green Hill Instrumental - The Charleston
5.In the Still of the Night - The Five Satins
6.Ray Charles - Hit the Road Jack
7.Louis Armstrong - What A Wonderful World
8.Funky BJs - Rubber Tip
9.The Monotones - Book of Love
10.Sting - Englishman in New York
11.The Dandeliers - Chop Chop Boom
12.Dave Brubeck - Take Five
13.Lester Young and Teddy Wilson - Love me or Leave me
14.Django Reinhardt - Modern Jazz Quartet
15.Louis Jordan - You Run Your Mouth
16.Grand Theft Auto III (final) - Theme song
17.Marc Seales - Highway Blues
18.Sonny Rollins - St. Thomas
19.Miles Davis - Move
20.Miles Davis - Boplicity.
Genre(s): Classic Jazz, Soft Jazz, Blues, R&B, Soul, Charleston.
The New KBDDF Tracklist
1.Modjo - Lady Hear Me Tonight
2.Daft Punk - Superheroes
3.Re-United - Sun Is Shining (Funkerman Remix)
4.The Supermen Lovers (feat. Mani Hoffman) - Starlight
5.Gorillaz: 19-2000 (Soulchild Remix)
6.Wamdue Project - King of my castle
7.Eiffel 65 - Blue
8.Praise You - Fatboy Slim
7.Weapon Of Choice - Fatboy Slim
8.Davidson - All I wanna do
9.Apostles of Funk - Yellow Butter
10.The Prodigy - Firestarter
11.Suie Paparude - Atac la persoana
12.Underground Resistance - Transition
13.Brooklyn Underground FM
14.Animal Testing Centre - DSP
15.Darude - Sandstorm
16.Daniel Bedingfield ~ Gotta Get Thru This
17.Nightcrawlers - Push the feeling on
18.Engineers Without Fears - Rhythm
19.ATB - Killer 2000
SCREENSHOTS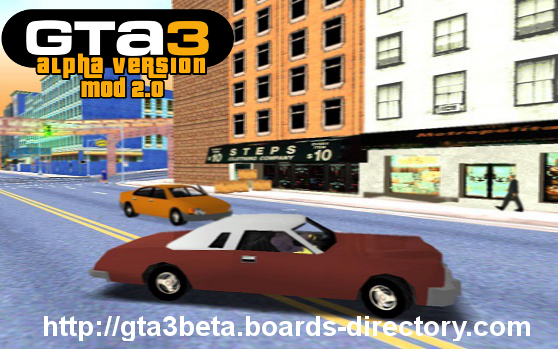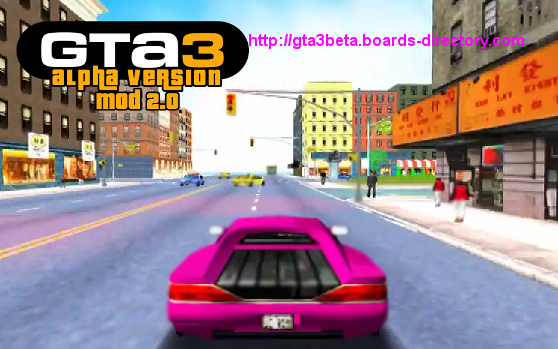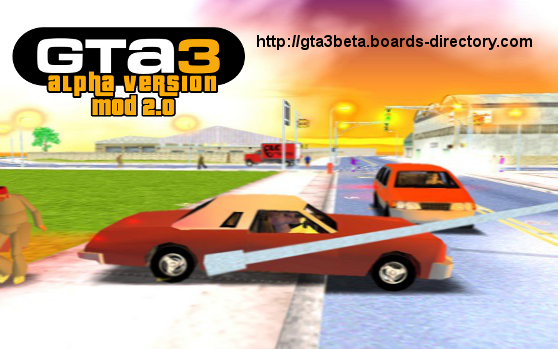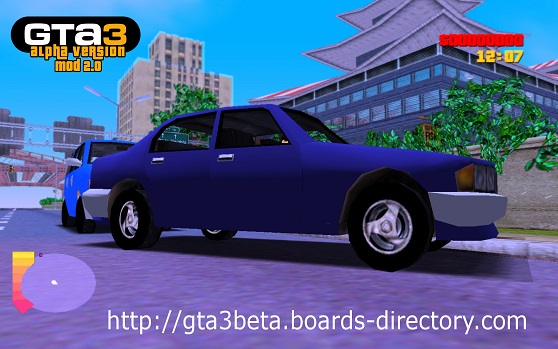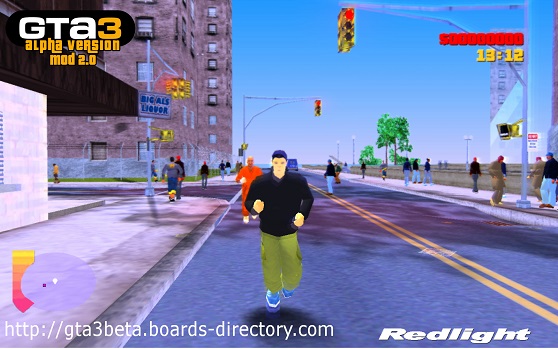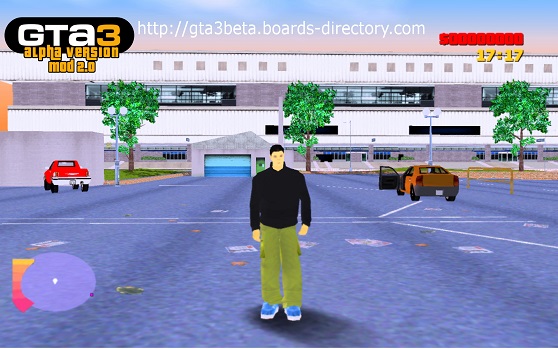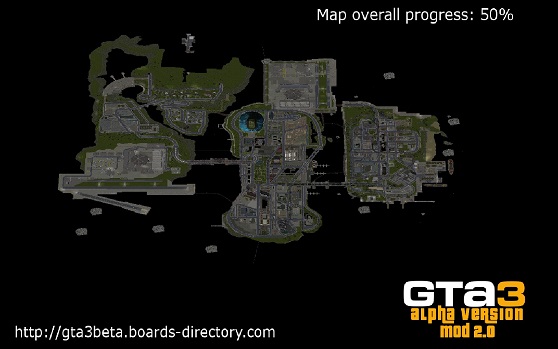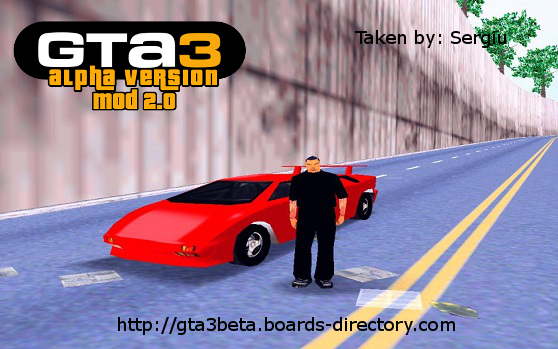 GTa3: Alpha Version Mod 2.0 Official Trailer!
GTa3: Alpha Version Mod 2.0 contains all features from previous version of the Grand Theft Auto 3: Beta Version Mods and the GTa3: Alpha Version Mods.
Team Members
MeltedSOX (Mod Leader, Texture, Map Editor, Radio Stations, Radar/Hud, Carcols, Sound FXs, Designer)
Sergiu (Texture, Timecyc, Artist, Radio Stations, Carcols, Sound FXs, Ped Editor, and Lead Designer)
edicu2000(Texture, Ped Editor, Radio Stations, Scripter)
Paoli (Map Editor)
LittleUZI (Map Editor)
J* Games (Alpha Airport)
Volunteerers
darthvader20011, Jeansowaty, Aztecas_5 (Alpha Cars and Models)
TheN00ster (Peds & Textures)
Special Thanks To:
Rockstar Games & Take 2 Inc. - For Grand Theft Auto III.
gta3beta (Alex) - The original creator of the GTA 3 Beta Mod from 2008-2009.
ThirteenAG - For the "IV Hud For GTA III And Vice City","Radio For All Vehicles", "Traffic", & "Walk" mod.
SilentPL - for the "Road Reflections Fix" mod & the "SilentPatch" mod.
Zmey 20009 - For "Alpha Roads"
Dimzet - For the "PS2 Animation and Headlights"
darthvader20011, Jeansowaty & aztecas_5 - For the "Alpha Cars (Vehicles)"
The Fans - For all your support & suggestions for the mod
GTa3: Alpha/Beta Version Mod 2.0 is a modification of the Grand Theft Auto: Beta Version Mod at https://gta3beta.forumotion.net
Grand Theft Auto III is trademark and copy wright under Rockstar Games and Take Two Interactive. http://www.take2games.com/ http://www.rockstargames.com
All mods from the Grand Theft Auto: Beta Version Mod website is created by the GTA: Beta Version Mod Team. Also have full permission, and is support by Rockstar Games.
Grand Theft Auto: Beta Version Mod website & team is created, and own by MeltedSOX
REMINDER: THIS MOD SHOULD NOT BE POSTED ANYWHERE ELSE BESIDES http://gta3beta-boards-directory.com ALSO YOU CANNOT USE THIS MOD TO FEATURED IN YOUR MOD WITHOUT THE LEADER'S PERMISSION. THANK YOU.
Thank you all for the continue support, I miss you all dearly.[/color]
MeltedSOX[/size]
Last edited by MeltedSOX on Thu Jul 28, 2016 1:36 pm; edited 9 times in total